The Square du Temple, the park of le Marais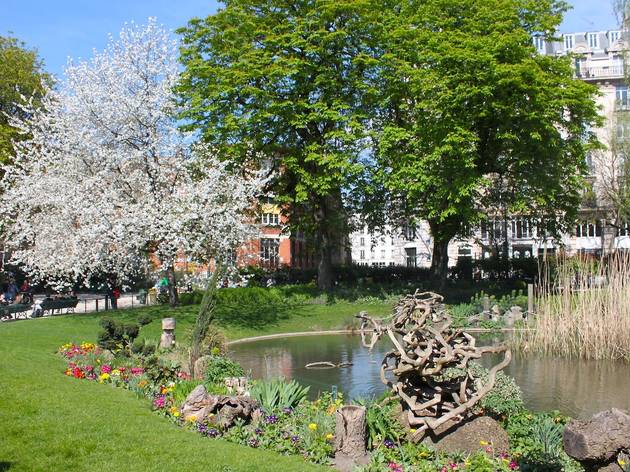 The square du Temple is a typical Parisian garden located in the arrondissement 3. The park is open since 1857. It is extended on an area of ​​7700 square meters.
This park is in le Marais district, a quiet and residential area of ​​Paris. It is the place to be if you want to take a walk. It is also perfect if you want to go shopping or eat in restaurants. There are amazing French or Jewish restaurants. In fact, the Marais used to be the Jewish quarter of the city.
If you want to go to visit this huge park named the Square du Temple, you can choose how to. You can take the underground metro line 3 and get off at the Temple station or take the bus number 20 (orange line) or 75 (yellow one). Near the entrance of Perrée street you can rent bicycles at a "Velib" station, a rent-a-bicycle point. In Perréestreet you can also see one of the oldest sundials sculpted by Rispal.
Square du Temple, why it is special
In the Square du Temple park there are 71 treesand and 191 different plant species.
Among many: the Byzantium nut, ginkgo biloba, Japanese sofora. Most of them are exotic species from the Caucasus or from America. For this reason, since 2007 the garden has gained the status of ecological green space by Ecocert, a French organization that investigates on particularly remarkable green areas.
At the square du Temple you can also see very important statues. One represents the cantor Béranger and it is located near the road that has his name; another one represents Henri Lagriffoul. Plus, there is another one that is dedicated to A.B. Wilhelm, founder of Orphèon, a French movement.
The square du Temple is also a very important place of memory for the French as well as for all the victims of the Second World War. Since 2007, a commemorative plate with the names of the children between the ages of 2 months and 6 years that has been deported and then killed in Auschwitz from 1942 to 1944.