Wedding in Paris: rules, locations, ideas!
Planning your wedding in Paris is the most romantic idea! Here you will find many bits of advice about how to organize it, with practical information to note down. Plus, you will find also many ideas about the location you can choose.
Wedding in Paris: how to make it happen
Here some useful pieces of advice to know what you need to organize your wedding in Paris.
Save money in advance. First of all, the cost is important but can't force you to give up on something you want for your special day. Collect all the info about what you want for your wedding in Paris and save the money you need in advance.
Be prepared for your "bureaucratic stay". Collect information about French law. To marry in Paris is necessary to be in Paris for about 40 days before the wedding day. Prepare all you need to be sure that you can stay in the city for so long.
Be prepared for polemics. When talking about weddings, everyone feels authorized to tell their point of view. That's ok if asked. If not, be prepared to see all your choices questioned. Be polite but do what you want: it is your wedding!!!
Keep in touch with somebody who speaks French very well. If you want to be sure that everything is ok for your wedding in Paris, ask a friend or hire somebody who can make sure that everything is crystal clear. Every singular booking, every bureaucratic paper.
Contact the Consulate of your Country. This is to be sure that your wedding in Paris will not be valid only there. Contact the consulate of your Country in advance to be certain that you have all the proper papers to marry your beloved one.
The real plus. If you want to give an unforgivable memory of your french wedding, hire a bus! You can use it during your wedding day to move around different locations. Besides, you can hire it one day more to make a tour in Paris with all your guests!
Marriage in Paris, basic 

rules
When you plan your marriage in Paris, be sure to book in time the office you need. You need to book a council office that here is called Mairie. You can choose among religious ceremonies or the civil rite. Check which is the Mairie that is closer to your favorite location. 
Amber
Remember to control carefully if you have all the papers you need to get married!
If you are planning a same-sex marriage, in France is legally possible since 2013. The exception is people from Algeria, Bosnia and Herzegovina, Kosovo, Cambodia, Laos, Morocco, Serbia, Poland, Montenegro, Tunisia, and Slovenia.
You need to be over 18 and not already married to your wedding.
When you think about your wedding in Paris, remember that non-residents or people who don't have French relatives, need a special dispensation to marry in France or Paris.
Marriage in France, the papers you

need
To be sure to have the chance of marriage in Paris and France, you will surely need the following documents:
Pay attention to the checklist!
Amber
your ID (for example, your passport);
a birth certificate that must be less than three months old if issued in France; less than six months old if issued elsewhere. If it is from abroad, it needs to be recognized in France too;
 address certificate that can be also rental agreement or bills;
proof of nationality;
civil status certificate
notary's certificate;
family record book, also known as livret de Famille.
Some information about your two or four witnesses
After you get married you will probably get a record book (livret de Famille) anyway, to record if you have any child or ex-wife or ex-husband in France.
And after all…
After your marriage, remember to check if you have your proof of marriage with you. It is the marriage certificate! Plus, remember that even if you have married a French person, this not gives you automatically French citizenship. And, if you would like to have French citizenship, you probably must wait about 2 years.
The best locations to marry your partner in Paris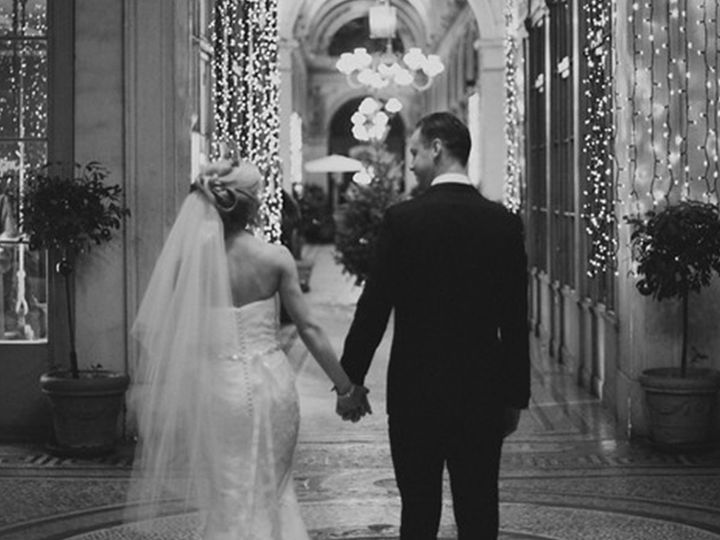 There are many locations you can choose for your wedding in the most romantic city in the world. For your marriage, you can surely choose a location like the Opera House. Anyway, I prefer something more refined. Here some ideas.
Institut du Monde Arabe. This location is one of the most refined because of the stunning façade. The shadows and lights of the architecture make this building unique. It is in the arrondissement 5 and you can invite about 140 people.
Carmen Café. Here personalities such as the composer George Bizet and the writer Marcel Proust used to pass the time. It is very elegant and it is central too since it is in the arrondissement 9. It can host up to 120 people.
Hotel Dosne-Thiers. In this huge palace, you can invite more than 200 people! It has 5 big rooms, a romantic garden, and a big and elegant library. It is in the arrondissement 9, in the very center of Paris.
On the Seine. If you are brave enough to organize a party that is out of the box, you can choose to hire an entire boat and have dinner on board! You will celebrate your special day while admiring the city from the river that runs through it!
If you want to make your wedding proposal in Paris, you are in the right place! Here you find many ideas about how to be a perfect planner for your marriage proposal in Paris. You have chosen Paris, the most romantic city in the world. Finding the precise place where you can live your special moment won't be hard.
You can choose among the most romantic and beautiful restaurants in the world. Or, you can opt for a wedding proposal during a cruise on the Seine.
But now, let's see which are the most perfect areas of the city for the perfect marriage proposal.
Choose Paris to make an unforgettable wedding proposal!
Amber
Wedding proposal places in Paris
A wedding proposal in Paris is one of the most romantic ideas you can have. Here you find many ideas, from the most classic ones to the most innovative.
The classic. If you do want to make a Parisian proposal, go for the classic places. A proposal on the top of the Eiffel Tower is unique. Plus, after that, you can go eating something very French in the restaurants in the Eiffel Tower.
Classic on the Seine. If you want to have the Eiffel Tower as wallpaper while you make your marriage proposal, go for a Bateaux mouches tour. During your cruise on the Seine – you can book a private one – you can make an unforgettable proposal. Plus, you can arrange a dinner on board too! Just picture yourself doing all of this at sunset.
Le Marais and the city Islands. If you want a traditional atmosphere without giving up romanticism, go for Le Marais district or the Islands of Paris such as Ile de la Cité or Ile Saint Louis. They all are areas where you can walk and feel the uniqueness of Paris. This happens because they are traditional quarters with panoramic points. Just imagine yourself making your proposal in one of the historical Paris bridges!
More marriage proposal ideas
With a contemporary view. If you prefer doing something unconventional, make your proposal in Montmartre. You can go there by funicular and ask you are an important question while admiring Paris from above. Plus, you are very close to one of the most beautiful churches in Paris: Sacre-Coeur Cathedral!
The panoramic one. For those who can't choose for a romantic walk and a striking view, a walk-in Champs Elysees is perfect. You can walk along the famous Avenue and then go on the top of Arc de Triomphe. There, you can make your proposal while looking at the city center from above.
In the culture. If you both are culture lovers, think about making your proposal in Orsay museum rooms. This place is one of the most beautiful in the world. You will ask a life-changing question in rooms full of artworks by Picasso, Rodin, Degas.
If you are planning your marriage in Paris, you have something to note down before going on. Getting married in Paris is probably the most romantic idea! Anyway, you need to be prepared about what you need to make it happen.