Parks in Paris for singles, kids, couples
Parks in Paris are both landmarks and attractions of Paris. That is because every park has its own peculiarity. When you visit the city you can't miss the chance to go at least in one of these beautiful attractions of the city. There is a park for every kind of person and for every type of travel. If you are going to the city alone, you can choose from woods and parks for art lovers. When you are going with your family you can go to another one that suits your needs. If you are going with your special partner, you can opt for lots of romantic walks in different places. Let's focus on which parks in Paris are the best for you!
Obviously, this is not an exhaustive guide to all parks in Paris. The following information is selected to make you understand which one is the best in some situations…
…like when you are traveling alone or with your kids!
Amber
Parks in Paris for art and nature lovers
Are you asking yourself which one of the parks in Paris is the one for singles? I may have the answer for you. I think that the parks in Paris who are very good for singles are the same that are good for art lovers. They all are places for those who want to enjoy beauty and peace and have a contemplative attitude.
Jardin du Palais Royal
Every one of the parks in Paris has been carefully designed. When you go there you immediately understand that there is an accurate project behind what you see. One of the most beautiful is certainly the Jardins du Palais Royal. It is the place where you can admire the architecture of the 16th century and the contemporary artwork by
Daniel Buren. It is one of the quietest parks in Paris where you can go to rest before continuing moving around Paris.
Luxembourg Garden
Another stage of nature lovers is the Luxembourg garden. It is in the arrondissement 6 and it is stunning. You can admire the project wanted by de' Medici family and all the statues and sculptures. Pay attention also to the magnificent fountain, one of the most famous elements of this park.
Bois de Vincennes
If you are looking for a solitary experience in a wood, go to the Bois de Vincennes. It is in the arrondissement 12 and it is actually wood. Even if today lots of people go there because of its beauty, you can still find the peace you need because it is huge! It has always been a place for those who are very inclined to meditation. At the beginning of century 20, some monks lived there. You can still admire the biggest sculpture of Europe representing Buddha.
Parc de la Villette
Another of the most interesting parks in Paris that is good to go alone too is in arrondissement 19. It is the Parc de la Villette, where you can visit lots of scientific attractions. When you go there, you can visit the City of Science, one of the most famous museums in all of France! Plus, there is the City of Musique too. It's true, you may find lots of people in this park but is because it is so amazing that you can't miss the chance to go there once you are in Paris.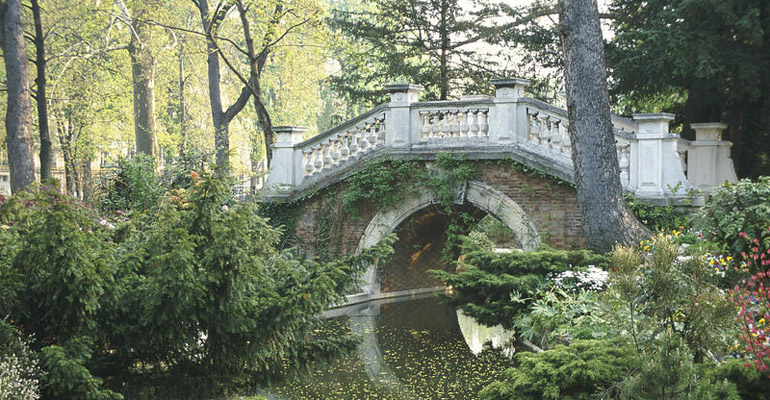 Parks in Paris for romantic walks
If you want to enjoy a day in the park with your partner, there are many parks in Paris between you can choose. When you want to do a romantic walk in a wood, go in arrondissement 19. There, you can enter the Parc des Buttes-Chaumont. Here you can lose yourself in caves, rivers, and lakes. You can also see animals such as ducks and swans!
Parc Monceau
Another one of the parks in Paris that are perfect for couples is the Parc Monceau. It is in arrondissement 8 and I think it is perfect because there are lots of paths with flowers and lakes. You can discover small woods, plants, and statues that are actually artworks!
Parc de Saint-Cloud
If you or your partner have a passion for flowers, go to the Parc de Saint-Cloud! It is also known as Domaine National de Saint-Cloud. The special characteristic of this park is that there are 10 fountains. Plus, there is the big waterfall of Le Notre garden. The plus of this park is that you can also see an amazing view of the city.
Champ-de-Mars
When you are looking for special parks in Paris, you can't miss the Champ-de-Mars. It is very close to the Eiffel Tower. What's more romantic than this? You can enjoy this, one of the best parks in Paris, during the day doing a picnic or at night.
Parks in Paris for a family
All of the parks in Paris that I mentioned before are fascinating for kids too. There are some other parks in Paris that are even more suitable for kids too. They are parks where nature is united with amusement attractions!
Jardin d'Acclimatation
Above all, I like the Jardin d'Acclimatation that is in the Bois de Boulogne. It is an interesting park for both adults and kids because it is a historical garden, its project was ordered by Napoleon, and because there is an amusement park area designed for kids!
Buttes Chaumont
Another park perfect for kids is the Buttes Chaumont ones. There, you can attend puppets shows and you can do a picnic. If you want to know more about the best activities for kids and children in Paris, check out the Paris for Kids section!