Which is the best Museum for Kids in Paris?
This section of Paris Rent Apartments is dedicated to understand which museum for kids is the best for you needs. The museums that are designed for children and kids too are not just classical museums. They are designed to both having fun and learning. It can be the perfect solution for when you are undecided on which activity choose to do in a group of various ages. Museums for kids are always fun for adults too. I really love going there also just on my own!
Why going in a museum for kids in Paris
If you are going in Paris with your kids or children, you can plan in advance which museum for kids is the best for you. Some people think that when their kids are on holiday they only want to have fun in childish ways. That's not true!
Lots of curious kids and children want to learn something when they are traveling. The Paris experience can be the right time to learn something about people they meet in a statue of wax form or about very old embalmed animals. Plus, they can have fun learning about magicians and optical illusions too.
Going in a museum for kids in Paris could be the right way to make your family understand that learning does not mean boring. Plus, learning it is not something that happens only at school! I have selected 3 museums that I really love even though I am an adult. See in which one you want to go first to enjoy unique experiences with your children and kids.
Grande Galerie de l'Evolution
If you would like to visit a museum for kids that is also the chance to learn something, go to the Grande Galerie de l'Evolution. It is a wide museum of natural history. This means that you can admire elephants, giraffes and lots of other embalmed animals of the Savannah environment. This museum for kids is very interactive thanks to lots of screens that display all the information about natural history in a very understandable way.
This museum for kids opens every day at 10 a.m. It closes at 6 p.m. The tickets cost about 12 €.
To reach this museum you have multiple ways:
Take the metro line 5 or metro line 10 and get off to Gare d'Austrelitz station or at Jussieu station. Or, you can take the metro line 7 and get off at Censier – Daubenton station.
Take one of the following bus lines and get off at Jardin des Plantens or Cuvier stop: 24, 57, 61, 63, 67, 89, 91.
Grevin museum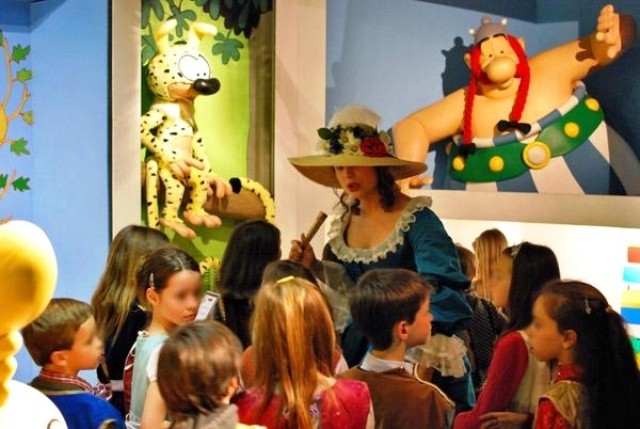 This is one of the most famous museum for kids of Paris. Founded in 1882, children of different eras had spent very nice time in here. Children and kids usually like a lot seeing all the waxworks and statues of wax that are the portraits of celebrities of all times. Cinema and pop stars are all at the Grevin. Plus, it is an enjoyable way to know lots about French history since many waxworks are referred to very important characters of this subject too.
The ticket for adults costs 24,50 €; the kids one costs 18,50 €.
It is open every day from 10 a.m. to 6 p.m.
If you want to go there you can
Take the metro line 8 or metro line 9 and getting off at Grand Boulevards station
Take one of the following bus lines: 20, 39, 48, 67, 74, 85
Musée de la Magie et des Automates
This museum for kids is about magic and automatons. Plus, this attraction of Paris is interesting for adults too. It is in the cellar of the house where de Sade live! During all the day you can attend shows with professional magicians. In this museum for kids you can also see objects that long time ago were used by Harry Houdini and lots of working automatons. It is a very rare experience to do with your children or kids.
The ticket price for adults if of 14 euros; children and kids pay 12 € – from 3 to 12 years.
The timetable of the museum of magic and automatons is from 2 p.m. to 7 p.m. on Wednesday, Saturday and Sunday.
To reach this museum you can choose from the following solutions:
Take the metro line 1, metro line 4, metro line 5 or metro line 7 and get off at Saint-Paul, Bastille or Sully-Morland stations.
Take one of the following bus lines: 67, 69, 76, 86, 87.