Typical French meal, quick guide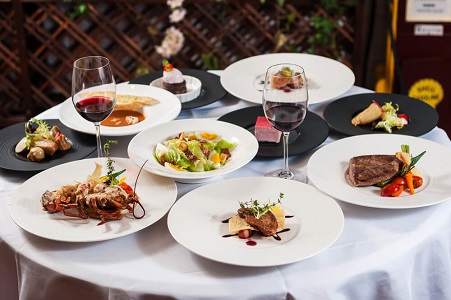 Do you know how to have a typical French meal? Here is how to respect traditions, and what you should expect going to traditional French restaurants.
How to have the typical French meal
The typical French meal consists of 3 courses. First of all, you have appetizers and first courses, known as hors-d'oeuvres or entrées. The main courses are known as plats. Last but not least, you finish with desserts.
In France, you can order à la carte. That means that you can choose what you want from the restaurant's menu, or take advantage of special menu formulas that include 2 or 3 courses at a fixed price. Menu formulas are usually more advantageous than single dishes. In such cases, drinks (boissons) are usually excluded. Keep that in mind when you ask for the bill.
Entrées (entrée/appetizer) generally consist of salads (salades), pâté or terrines of meat or fish, plates of pickles and raw vegetables (assiette de crudités), charcuterie (charcuterie), vegetable puree (potage), soup (soupe), concentrated broth (consommé), eggs (especially in the version oeufs pochés) and for the most refined palates, dishes of oysters (huîtres), crustaceans (crustacés) and seafood (fruits de mer).
The plats, which are the main course of the meal, are divided between meats (viandes) and fishes (poissons), with side dishes (garnitures), such as potatoes in every shape and way of cooking (pommes de terre), in particular frites from which the name "french fries", but also boiled (à l'anglais), croquettes (Dauphine), sautées. Other frequent side dishes are green beans (haricots vert), cooked or grilled vegetables (legumes) or rice.
It is impossible to end a good French meal without a dessert! In Paris, desserts are usually filled with an abundance of whipped cream. They also use cheeses (fromages), as it is well known France is a country of great tradition in the production of cheese.
Read more about where to eat in Paris.