Paris in 1 Week – two programs to follow
Visiting Paris in 1 week is one of the best choices you can take. In one week you can really try to live like a Parisian and try to have an authentic experience of the city. Even if you are in Paris for a game week a fashion or couture week or a bridal week, you can read my suggestions to collect your ideas about what else to do and to see.
What you can find useful is also:
Amber
Since you are in Paris for a week, try my itinerary at least for one day!
Paris in 1 week, program
If you want to visit Paris in 1 week, I suggest going to visit the main symbols of the city during the first days.
Like the first thing in the morning of Day 1,  go to the Eiffel Tower. You can go to the Tour Eiffel by getting off at Trocadero Station. After that, you can take a walk to Port de la Bourdonnais or Port de la Conference. From there, you can go on a cruise on the Seine. I know: you will meet lots of tourists there but trust me – it's something to do once you are in Paris.
After lunch-time, I would go to Le Marais. It is one of my favorite districts in Paris. Traditional and modern are mixed together and I love taking a break in one of the cafès in Le Marais. Once you are there, I suggest visiting the Pompidou Center. If you don't want to spend all afternoon in the museum, you can also visit only
temporary exhibitions.
I think that night-life can be in the day 2 program
Amber
As anticipated, in Paris in 1-week experience, I would start day 2 visiting other attractions of the city. The first landmark to visit is the Arc de Triomphe. If you are into shopping, you are close to Lafayette Galeries too!
After lunch-time, it is a good idea to mix the exploration of Paris to the shopping. To do that, the best area is between Place Vendome and Rue de Rivoli. Plus, you can go to Place de la Concorde too and then take a walk along Champs-Elysees. I would definitely stay in the same area in the evening too. There are lots of cafès, restaurants, and night-clubs.
For the third in Paris in 1 week, I suggest spending part of the day at Louvre. It is one of the biggest museums. There, you can admire artworks from all over the world. There is not only the Gioconda (Monna Lisa) by Leonardo da Vinci!
After that, I would go to a park in Paris to rest or to eat something. During the afternoon or an evening, you can take a walk on the islands of the city. Ile de la Cité and Ile Saint Louis are places to visit. Plus, going there you will see Notre Dame Cathedral too, with Conciergerie and Sainte Chapelle.
Amber
You can continue your night in arrondissement 9, if you are not tired yet!
On day 4 you are ready to spend the day in Montmartre. You can go there by funicular and explore this part of the city, where you can meet lots of artists at work. Of course, I suggest going there to admire Paris from above and see important attractions. There you can visit the Sacre-Coeur Cathedral. Not so far from that, you can admire the love wall too, near to Absesses station.
During the afternoon, you can go to the Opera district and then visit the Jewish quarter, in the neighborhoods of Place des Vosges.
At night, go in rue Mouffetard to taste something 100% Parisian!
If you want to visit Paris in 1 week there are places you have to see! On day 5, go to Les Invalides. You can easily go there by metro. You can admire Napoleon's Tomb and then you can see the bridge dedicated to Alexander the 3rd. It is one of the most important in the city. After that, you can go to the Grand and to the Petit Palais. They both are two great palaces where you can also visit exhibitions.
In the afternoon, I would continue visiting the museums of Paris going to the Orsay. Here you can admire artworks by artists like Degas and Renoir. At evening, you can go to Boulevard St. Germain and live the night atmosphere of Paris.
On day 6 you can go to one of the typical French markets to buy some food, flowers or souvenirs to take home with you. I like the one of Enfants Rouges! Or, you can also go back to quarters like Le Marais; the Latin Quarter or rue Mouffetard. They are always very lively and you might want to spend some time there even if you already visited that area.
Consider drinking a cocktail near Canal St. Martin at evening!
Amber
One week in Paris for art and architecture lovers
If you are interested in some specific attractions of Paris because of your passion for art and architecture, you can follow this program.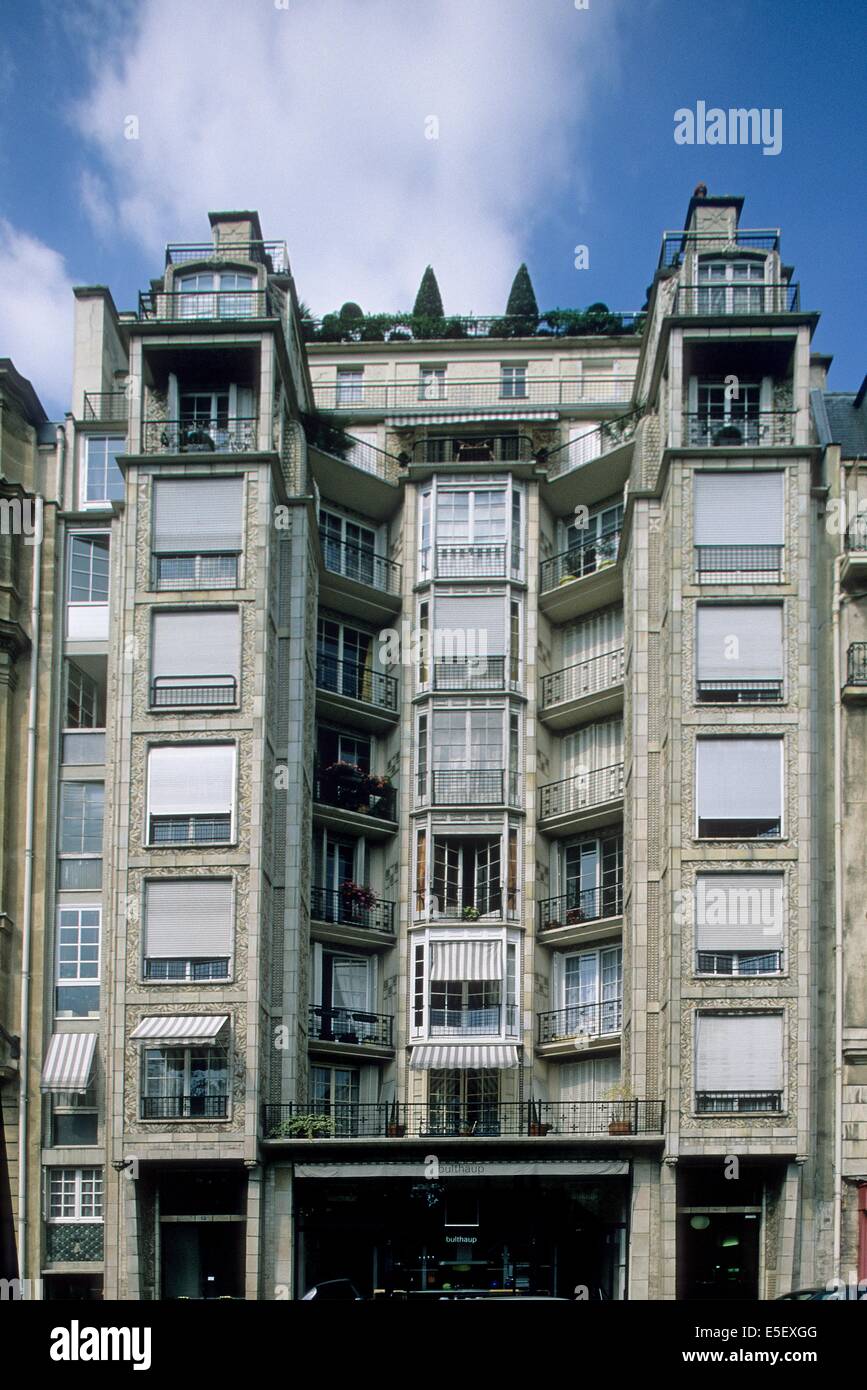 I consider a part of the first day of your Paris in one week program as dedicated to the journey. Once you have checked-in at your accommodation, you are ready to explore the city. As the first stage, I would take the metro and get off at Trocadero. That is because you can admire a great view of the Eiffel Tower. From this special spot – where you will find lots of tourists taking pictures – you can see the Tower is not too close and not too far.
After that, you can go straight to rue Franklin. By walking a few minutes you have the possibility to admire one of the most important buildings in Art Nouveau style in Paris. At 25bis of rue Franklin, there is one of the masterpieces by the architect Auguste Perret! Going along the same road, you can see other beautiful buildings.
Then, you can take the metro and go to Montmartre to admire another important building. It is the house of the artist, Tristan Tzara! Designed by the wiener architect Adolf Loos, this house in Montmartre is a manifesto of another architectural movement, proto-rationalism.
Since you are very close to the Sacre Coeur Cathedral, you can admire it from the inside too. Also, in Montmartre, you can find many brasseries where you can taste French cuisine!
You can dedicate day 2 of your week in Paris to see what it means to live like a local in Paris. A very important architect who also lived in Paris is Le Corbusier. Paris is rich in artworks by him you can admire. As the first thing to do on day 2 I suggest going straight to Maison La Roche – metro stop: Jasmin. It is a house designed by Le Corbusier where you can see the application of its architecture theory. You can visit its interior too and it is truly emotional.
Once you are there, you are very close to the apartment where Le Corbusier and his wife Yvonne lived. Just get off at Molitor metro station to go Le Corbusier studio-apartment. It is another great experience to do. In the hall of the building, you can see lots of drawings by Le Corbusier. The real thing, anyway, is on the 7th floor. There you can visit all the peculiarity of its house, such as the bed, that is 1-meter high or his studio. There is also a great view of the stadium and of the district.
After lunch, you are ready to go back to Trocadero to visit the Musée de l'Homme and the Museum of Architecture! In the first, you will see super-interesting documentation about the evolution of the Man in various countries. Also, you will admire the original scheme of the Modulor by Le Corbusier. In the Musée de l'architecture, you will admire projects, designs, and objects of the most important architects and designers of the world. Also, there is a model of the Unité d'habitation in 1:1!
If you are not tired yet, I suggest continuing your art experience in Paris at the Orangerie Museum. It is something you must absolutely do if you are into art and architecture. That is because the Museum has been designed to host huge paintings by Monet. Also, there you can admire artworks by Matisse and all the other great artists that lead to Impressionism. Orangerie Museum is very close to the Tuileries garden, one of the most beautiful parks in Paris. From there, you can also visit the Jeu de Pomme museum, about photography and video art.
Once you are in Paris, you can't forget the very important work about this city by the German philosopher Walter Benjamin. I suggest going in Le Marais – metro stop Saint Paul, to see the passage dedicated to him, who wrote The Arcades Projects also known as Le Passages de Paris. Since you are in Le Marais, you can enjoy this district where you can walk through the Jewish Quarter. You are also very close to Notre Dame Cathedral! After visiting that, you can go to the Orsay Museum. It is also known as Gare d'Orsay because it used to be a station!
At the Gare d'Orsay project have worked many important architects, such as the Italian Gae Aulenti. Orsay Museum is a stage for both art and architecture lovers. There you will see paintings of Van Gogh, Gaugin, Monet, Degas, Matisse… It is so difficult to express what you can feel there. In the Orsay Museum, you can also admire authentic Art Nouveau furniture and interiors. And there is also a path dedicated to the Eiffel Tower! It is a huge museum, so you have to consider many hours to visit it.
To continue your praising of Walter Benjamin, you can go to see where he lived during his last days in Paris. You have to go to rue Dombasle, close to Convention metro station. After that, you can take a bus to the National Library of France. You will join a bus tour using public transports since you will cross many important districts of the city. Also, you will see also the Institute du Monde Arabe, designed by Jean Nouvel. Once you are at the Bibliotheque National de France, you can visit the buildings designed by Dominique Perrault. You can also visit many exhibitions about ancient media!
After that, I suggest taking a break in the park de Bercy which is very close. Once you are ready to explore new places, I suggest going to the Centre Pompidou, also known as Beaubourg. It is a great building designed by Rogers and Renzo Piano. It also used to be the house of IRCAM, a music research institution. Now you can see lots of temporary exhibitions. The high quality is a must, there. It is an attraction to see even if it is really dirty.
Now that you are for the fifth day in Paris, you are ready to win a challenge: entering the Louvre. If you go there early in the morning, you will only have to face a 10-minute queue. I suggest buying the ticket in advance. Take a look at their rules to see if you can enter for free Under 26 and journalists with their carte de presse, surely can. If so, you can skip the line of the ticket office and go straight to the access in passage Richelieu. Once you are in the Louvre, prepare to stay all day there since there are more than 35000 artworks. Seeing the Monna Lisa is a must-do if you go at the Louvre. Prepare to a long line and to people who won't just put their phones down but don't give up!!!
If you won't spend all of your day at the Louvre, I suggest taking a break in the Tuileries, maybe eating something around there. After that, you will be ready again to go to another of the greatest parks in Paris: parc de la Villette! I suggest going there because there is the Citée de la Musique, probably the greatest museum of Music in Paris. There you can see both permanent and temporary exhibitions. There are instruments of all times and all countries and you can learn a lot by visiting it!
You are ready to come back to architecture. Go to the Cité Universitaire and be ready to admire masterpieces. Here there is the Suisse Pavillon by Le Corbusier. You can visit both the hall and the apartment model hosted in room 105. Le Corbusier foundation does not make very easy to travelers visit these attractions so be prepared for complications. Be very aware of the timetables variations and try to apply in advance to be sure you will have the right to visit this beautiful architecture artwork.
Once you have left this area of the city, I suggest going back in Le Marais and then around the Islands of the city, Ile Saint Louis and Ile de la Cité. From there you can take a bateaux mouche. It is an experience to do because you can learn lots of things about the city by crossing it by boat. You realize that everything is very close even if Paris is huge! Usually, this is a great time to cross the Latin Quarter too.
In the morning of day 7, I would go to La Tour Maubourg. You can explore another area of the city that is not very crowded but still very important. It is one of the historical areas in Paris! Also, you can find many traditional places where you can have lunch once again with traditional dishes of Paris: onions soup, crepes, omelets, pulet with frites and salad… I consider day 7 as the conclusion of the Paris week dedicated to art and architecture! In the afternoon of the last day, I would go to the airport and be ready to go back home!
More than  1 week in Paris? Fab ideas to follow
Amber
If you are in Paris for more than 6 days, you can choose among lots of things to do.
You can explore the neighborhoods of the city too. I really like this idea and I always propose three solutions for who is in Paris for a long stay.
You can go to Disneyland and visit one of the most famous amusement parks in the world. It is a great idea for adults too, you could never be too grown up!
If you like history, nature, art, and architecture,

Versailles

is the place to be!
You can go to admire one of the wonders near Paris, Mont Saint-Michel.
If you would like to spend even more time in Paris, I suggest coming back at least in one of its museums, such as the Louvre or the Orangerie. Pompidou center is a great idea too. You will never see everything in a couple of hours, so if you can spend more time there. Or, if you want other ideas about what to do, check out the top 20 things to do in Paris for free.
The craziest idea, anyway, is to go from Paris to other beautiful cities to visit. My favorite ideas to do that are these two:
You can take a train to Bruxelles, Belgium. The journey lasts 1 hour and a half!
If you want to visit England too, you can do it! Find out

How to go from Paris to London

.
That's how you can make your stay in Paris in a fully European experience!
Plan your trip with Amber
If you need help with your Paris travel planning, send an e-mail at parisrentapartments[@]parisrentapartments[.]com